HoneyRock Publishing Announces book release – June 2019 – NOW AVAILABLE for purchase (see below)
Mushrooms:  An Unlikely Charisma  –  a whimsical photo-essay & exhibit
by Beverleigh Barton LeVan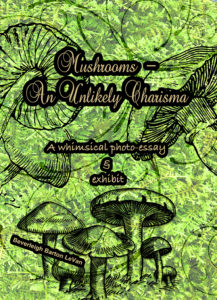 Much like its author, this "little mushroom book" defies categories.  Not sure if you should read it, look at the captioned pictures, ponder  its meanings, or all of the above, Bev LeVan hopes more than anything, after you've perused its pages, you will smile, and appreciate nature a little bit more.
This 125-page book is mostly a photo-essay or coffee-table-memoir-of-sorts, ripe with imaginative observations translated from a large variety of mushroom and fungi photos the author captured "steps from our front door," into simile, metaphor, and essay-like anthropomorphized prose.  This book is not a scientific, naturalistic, or even psychedelic treatise on mushrooms and fungi.  It doesn't catalogue, or list varietals even though a substantial and disparate collection is exhibited therein.
For example, these are a few images of mushrooms & fungi which the author encountered on her walks through a microdot of the central Pennsylvania woodlands and countryside: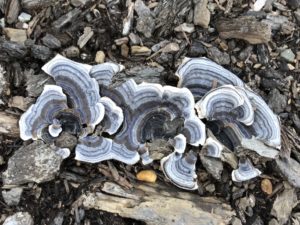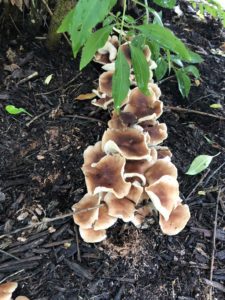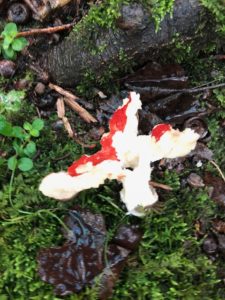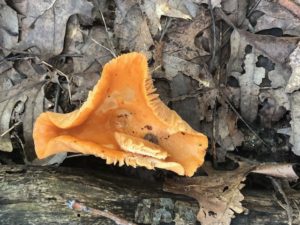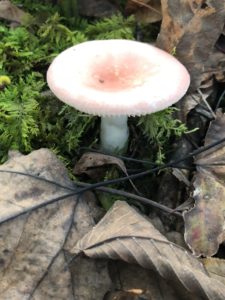 Approached with a social-science trained, spiritually-attuned brain, a spot of warmly sarcastic wit, a bit of free-form poetry, and a lot of creative imagination, LeVan has compiled a book that could be labeled an appreciation of nature tutor.
Because it contains hundreds of photos, don't presume that this book is dumbed-down.  Au contraire, it is designed to make the reader think about nature creatively and imaginatively, as the author invites the reader into her rabbit-hole in the woods and to engage in a Rorschach Inkblot-like game of
"Imagine the Mushroom." 
Take a break with LeVan from your usual world just long enough to let the astonishing beauty of these mushroom/fungi photos, of all things,  spark joy in you.  If you have no natural wooded space nearby or if you haven't had the chance to wander those you have, the author of this book hopes her venture into the woods might fuel your imagination for what's next in your life.
"I walk into a natural world, steps from our front door where I turn on the switch to my imagination and look down, up, or around me to always catch a glimpse of a mushroom or fungus-cousin, a flower, a plant, a critter, a cloud, or a tree, that give me joy that seems more than the circumstance should merit but in comparison to the stuff left indoors, is downright astonishingly beautiful at least for a blessed moment." – from the back cover
FOR PAGE SAMPLES AND ORDERING INFORMATION:
HoneyRock Publishing:  http://honeyrock.net/mushrooms.htm
Ebay: https://www.ebay.com/itm/173930161275
Amazon: https://www.amazon.com/MUSHROOMS-Unlikely-Charisma-Whimsical-Photo-Essay/dp/0578458101