I'm told by a reliable source, and I believe it – Internet Culture is one with the attention span of a gnat, or a turkey.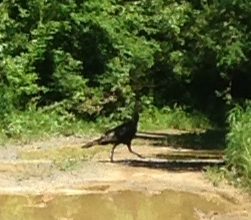 pic of a Turkey
I'm a newbie blogger that thinks deeply about random things.  I'm also a personal essayist (read more about this in the About section and/or Home pages).
If a post is an essay, it's likely long for gnat-culture, but worth it if you can take it.  Other essays and future posts will include: random thoughts ranging from: litter, to loss, insomnia, anthropology at the eye doctor's office, my Paul McCartney epiphany to Let It Be….
Oh, and I'm also told that cats appear big-time on the Internet.  I definitely write about cats (see post about "Kitten Culture")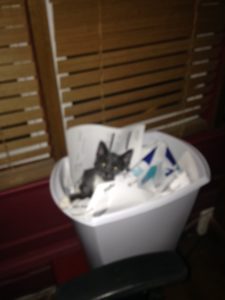 Simpkin G
otherwise known as Crazy Eyes, preparing for repose in the office trash can.
Please join me in reverie and/or contemplation about random stuff – I assure you there will be something that you will identify with.